Downtown weekend getaway
13 October 2021
If you're looking to spoil yourself with a luxurious getaway for two in Fremantle, stay at one of Fremantle's downtown hotels for easy access to the newest restaurants and chic small bars.
DAY 1
AFTERNOON
Check in! Many hotels in the heart of the city offer Freo right outside the front door, including Warders Hotel, The National and The Federal Boutique Hotel,  
EVENING
For a unique way to start your getaway weekend, step aboard the luxury sailing catamaran Charter 1* and enjoy a sunset sail, departing from Cicerello's Jetty at Fishing Boat Harbour.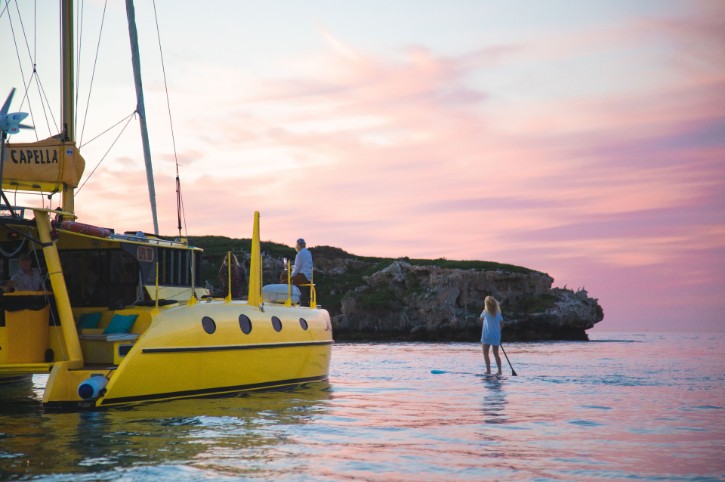 Image: Charter 1 luxury sailing catamaran
DINNER
A restaurant booking for 8 pm will give you plenty of time for an evening stroll past your hotel along Essex Street and to the Cappuccino Strip on South Terrace. 
Fremantle's hospitality renaissance means there's plenty of choice. Try the beautifully restored Tonic and Ginger at The Old Synagogue. Squeeze in a sneaky nightcap at the downstairs speakeasy bar, L'Chaim. 
DAY 2
MORNING
When you're ready for coffee, head to Duck Duck Bruce on Collie Street, it's one of several spots in the Downtown area of Fremantle receiving rave reviews as a top place for weekend breakfast-brunch. 
Back to the Esplanade Reserve to get your bearings and a bird's eye view of the city on the ferris wheel.
AFTERNOON
It's a one o'clock start at the Republic of Fremantle Gin School* where you'll learn all about the world's best gin. 
Carrying your 500ml bottle of custom-distilled gin, it's back to the hotel for some down time ready to explore the city at golden hour.
EVENING
Start the evening with an elegant aperitif and tapas style treats at Strange Company on Bannister Street.
DINNER
Make your way to South Terrace and turn right to walk past Gino's. At the Sail & Anchor Hotel on your left turn left to enjoy dinner for two at Emily Taylor*, part of the stunning Warders Hotel on Henderson Street.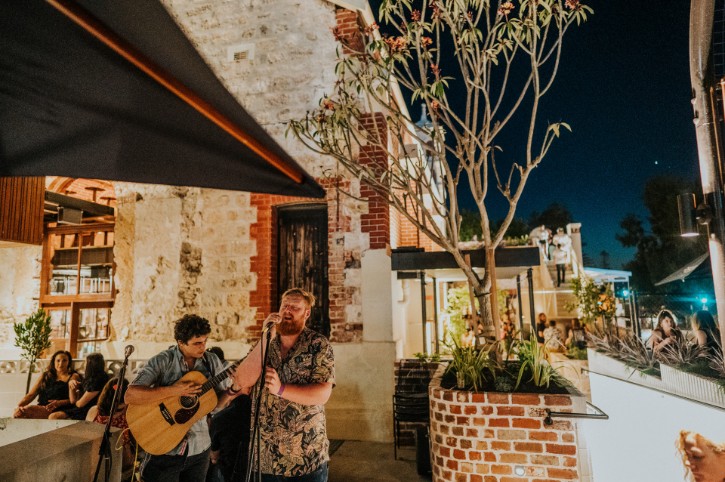 Image: The Old Synagogue
For a taste of live and local music try Freo.Social on Parry Street, just a hop, skip and a jump from your hotel.
DAY 3
MORNING
Fremantle Markets is the perfect spot for a leisurely wander on a Sunday morning. Pick up some fresh bread and grocery treats to take home. There are great breakfast spots lining South Terrace and out in The Yard.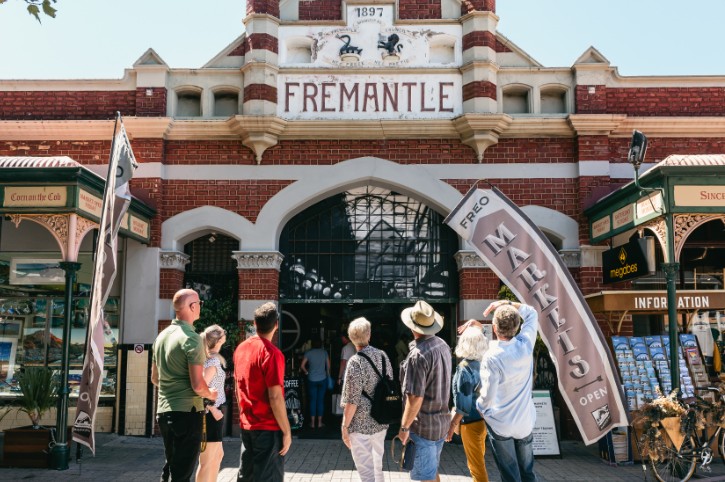 Image: Fremantle Markets, Downtown
*Bookings required at hospitality venues.